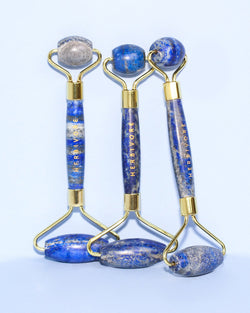 Herbivore Botanicals
Lapis De-Puffing Face Roller
The Lapis De-Puffing Face Roller is an incredible tool for inner + outer beauty. Facial rolling is relaxing and de-stressing. It has been a beauty ritual since ancient times in China, dating all the way back to the 7th century.
*Physically, it helps to firm the skin through gentle massage. It also aids in stimulating the lymphatic system, the body's main detoxification system.
*Metaphysically, Lapis brings clarity of purpose, tunes the throat chakra, activates the third eye, and helps to clear the skin of environmental impurities.