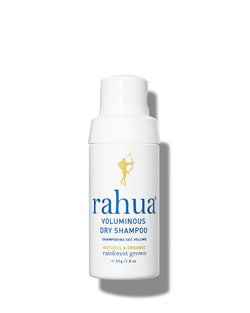 Rahua
Voluminous Dry Shampoo
Crafted with plant-based ingredients, our highly efficacious dry shampoo leaves hair and scalp clean and refreshed and makes styling effortless. Packaged in an environmentally friendly non-aerosol dispenser, it delivers texture, hold and volume. Best for all hair types.
 CASSAVA (TAPIOCA): This edible root has been a staple for Amazonian people for thousands of years. Organic, food-grade Cassava starch absorbs oil, perspiration, and debris from the scalp and hair and builds a supportive base for long-lasting durable styles.
COSMETIC CLAY: Used for centuries in makeup and as a health treatment, clay absorbs oil, perspiration, and dirt from scalp and hair.
ORGANIC STAR ANISE: This evergreen seed offers a spicy fragrance and antimicrobial properties that help maintain a healthy scalp.
Full list of ingredients: Fuller's Earth (Clay), Organic Tapioca Starch (Cassava Root), Illicium Verum (Star Anise), Vanilla Planifolia, Citric Acid.
1.8 oz