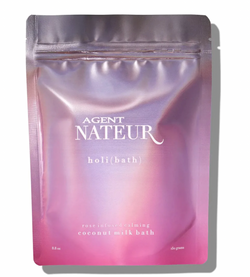 Agent Nateur
holi (bath) rose infused calming coconut milk bath
This luxurious blend of soothing and hydrating coconut milk, calming and detoxifying salts, and nourishing plant extracts was formulated to calm the body and rejuvenate and hydrate the skin. Enriched with ingredients containing relaxing natural minerals and organic compounds, holi (bath) softens, soothes irritated skin, soothes tired muscles and smooths from head to toe.
Suggested use: Add 1-2 scoops to running, warm bathwater before soaking for 30 minutes or more. For a gentle exfoliation, use holi (bath) as a scrub to complement your bathing ritual. Enjoy 10 baths per bag. Add holi (body) ageless body oil to your bath for even more hydration.
Ingredients: cocos nucifera (coconut milk), sodium chloride, magnesium citrate, magnesium chloride, organic honey, sodium bicarbonate, calendula officinalis flower, chamomilla recutita flower, simmond- sia chinensis (jojoba) seed oil, jasmine sambac, rose absolute, santalum album (sandalwood), citrus paradisi, vanila planifolia fruit extract, tsuga canadensis leaf (black spruce), cinnamomum camphora bark (howood), boswellia serrata (frankincense), tanace- tum annuum flower (blue tansy), canarium luzonicum gum (lemi)
*Agent Nateur products are Ecocert organic certified and compatible with even the most sensitive skin.