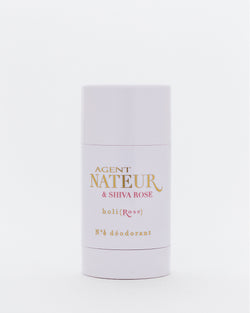 Agent Nateur
Holi (Rose) Deodorant
A beautiful deodorant with an intoxicating blend of sacred sandalwood and heart-opening rose. N°4 signifies creation and represents patience, trust, honesty, and integrity. it vibrates with passion, drive, and mastery. 
Ingredients: organic coconut oil, sodium bicarbonate, beeswax, sunflower butter, avocado butter, castor oil, rose essential oil, sandalwood essential oil, love.
*Agent Nateur products are created with non-gmo, food-grade ingredients for even the most sensitive skin.